About Us: Your Gentle Family Dentist
Our Vision is to Spread Confident Smiles Throughout Auckland
Do you stop yourself from smiling wholeheartedly?
Do you hate smiling for photos?
Does a visit to the dentist make you feel self-conscious?
If you've answered yes to any of these questions, then Confidental is the Auckland family dental clinic for you. We believe that everyone has a right to feel confident about their smile.
We offer quality dental treatments at affordable prices, and we do it as painlessly as possible. We also believe your oral health is a mirror of your general health, so our range of dental services always consider your overall well-being.
The Confidental Clinic Guarantee
Quality care and commitment. Our dental practice is run by professionals who prioritise your care and comfort. We make sure to use the best equipment and dental care practices to ensure you have a great experience with us!
We make a dental plan for you. After a thorough check up, we'll tailor a treatment plan for your specific needs. We're never in a hurry, and we want you to understand what's happening, so we'll always take the time to explain all your options in detail.
Easy payment options. We make sure your treatment plan is budget-friendly, so it won't hurt your wallet. On request, we can give you a cost breakdown of your treatment plan, and we're also partnered with Q-Card.
We're a gentle dentist. Whether we're doing dental surgery or something less invasive, we'll go the extra mile to make sure you're comfortable. We can even provide headphones and music to listen to if you need a distraction!
Meet Our Family Dentist: Doctor Siri Reddy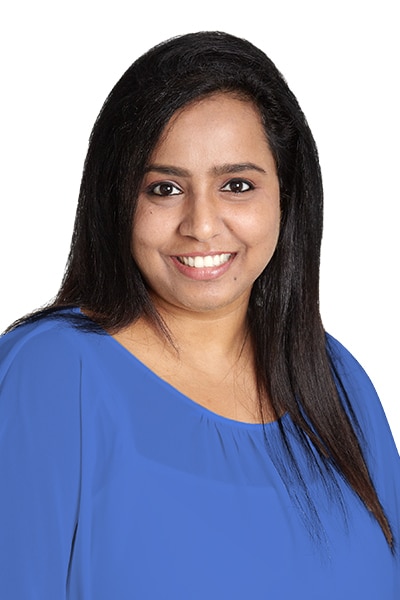 Doctor Siri has dedicated herself to becoming a family dentist, as this industry is her passion. After achieving the 38th rank out of 10,000 dental scholars, she completed her Bachelor of Dentistry and went on to achieve a Masters of Orthodontics with distinction. Even now she hasn't stopped learning, constantly taking new courses, and staying up to date on the latest dental treatments.
Whether she's doing a simple filling, a dental implant, or a full mouth rehabilitation, Doctor Siri handles the job with care and commitment to her patient. That's why around the clinic you may hear us call her "The Perfectionist".
When she's not in the office or helping patients, Doctor Siri loves to travel with her family and loves to cook for her cricket-mad husband Dinesh. Not to mention looking after her two-year-old toddler!
Our resident dentist treats everyone who walks through the doors of our clinic like they are family. She knows that every patient is searching for a reliable treatment that can ease the pain, and that's what she provides—every time! As an active member of the Auckland Dental Association and the NZDA, she is an ideal dentist for any Auckland family.