Our Philosophy
Our Vision is to Spread Confident Smiles throughout Auckland.
Everyone has a right to have a beautiful fuller smile.
Are you hesitant to smile wholeheartedly?
Do you cover your teeth while you are smiling?
Do you become very conscious seeing a dentist?
Then, you are at right place.We are here to help you.
We are purely not judgmental about the person by looking at the person's smile nor teeth.If you are paranoid by the cost of dental treatment, we are an experienced and friendly team ready to help you achieve your treatment goals within your budget. We use the advanced technology to make our diagnosis and treatment more precise and perfect.All in all, we are here to provide the best quality dental treatment within individual budget.
Do you know "oral health is a mirror of your general health".
We believe in not just treating your teeth. We are rather concerned about your overall well being.Most of your health problems reflect their early manifestations in your mouth. Hence get yourself checked and assessed for any potential risk factors.
Why Should You Choose Us?
Quality Care & Commitment: We are highly qualified professionals providing our patients with top-notch care and comfort. At Confidental Advanced Dentistry, we are committed to providing the most quality and pain-free treatment. To do this, we prefer using the best equipment and material. We heard a lot of horrifying dentist stories that brought severe suffering and pain to the patients. Hence, we always strive to make the best dentist experience and keep the dental phobia a bay.
Personalized Treatment: After thorough check up with all the latest tools we got, we customize the treatment plan for every specific need of the patient with priority based. We are never in a hurry and make sure that our patients stay relaxed. Therefore, we do take time to explain all the options in detail and assure that they fit the budget of our patients.
In-office Payment Options: We customize a budget-friendly cost of your treatment plan so that it doesn't hurt your pocket. Moreover, we are affiliated with Q-Card finance option and also provide cost information for the detailed treatment plan.
Comfort: At Confidental, we respect and understand that many dental patients experience dental anxiety. At our practice, we do everything we can to make sure that your experience with us is as enjoyable as possible. We communicate clearly about what can be expected from the treatment. And to add a little fun to it, we provide headphones and music to listen to during the treatment.
Dr.Siri Reddy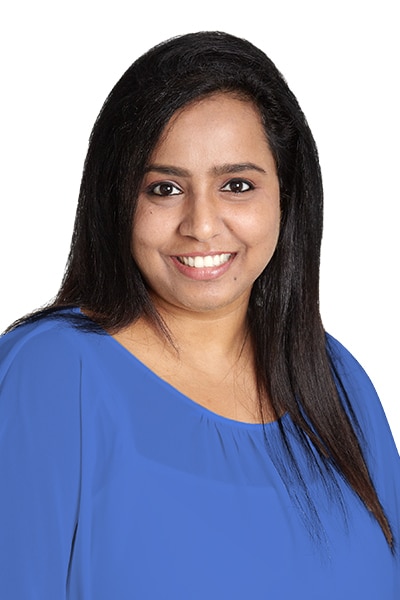 No matter which profession you belong to if you are pursuing it as a job you won't be able to reach the highest level of success. However, if it is your passion, you won't mind putting in your blood and sweat.
Similar is the case with Dr. Siri, a Certified Invisalign provider, who considers dentistry as her passion. Therefore, whether it is just a simple filling or a full mouth rehabilitation, she handles it with subtle care and perfection, which is why she is often called "The Perfectionist".
Patients, with dental problems, are usually looking for reliable treatment who can ease the pain and assure great satisfaction. Dr. Siri does it every single time when a patient visits her. She treats everyone with the same level of care and honesty as she treats her own family. And, to make sure that her patients receive the top-quality care and comfort, she provides them with the best options and helps choose the best among those options.
As far as her academic life is concerned, she grew up in India and achieved a prestigious rank of 38 out of 10,000 scholars before completing her Bachelor of Dentistry. After this, she pursued her Masters in Orthodontics with distinction – passion played a crucial role in achieving all this academic success. However, she didn't stop there and kept herself updated with the latest trends and technologies by doing courses almost every year, which automatically makes her highly knowledgeable and skilled to take on any challenge.
Siri strongly believes that if you are passionate about your profession, then you should keep on educating yourself. Likewise, this is the approach she adopts for herself, which has made her an active member of the Auckland Dental Association and the New Zealand Dental Association.
So, with her unparalleled passion for dentistry and the best knowledge in both Orthodontics and Cosmetic dentistry, Dr. Siri provides her patients with the best smile design treatment plan. And, since she is a Jack of all trades, she also believes in holistic dentistry and offers best of the best treatments for a safe holistic treatment.
Putting all this together, she makes the patient happy and smile with confidence.
When Siri is not working, she likes to travel with her family and also loves cooking food for her cricket-mad husband Dinesh. She also has an 18 months old naughty hyperactive toddler whom she loves to spend time with.