GENERAL DENTAL CHECK-UPS & EXAMINATIONS
As professional dentists in Auckland, we encourage you to have routine dental check-ups to make sure that your oral health is top-notch. Even if you're not feeling any pain or don't have any specific concern, regular dental exams are necessary and are a critical part of preventative oral health care. Through routine check-ups, we can examine trouble areas and check for early signs of tooth decay or any oral health problems and address these issues early on.
When you visit us regularly, you increase your chances for early treatment, helping us devise robust treatment plans and decreasing your likelihood of needing emergency dental treatment.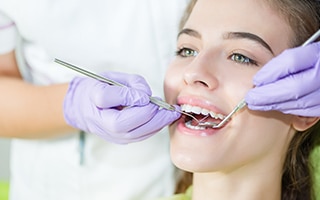 What happens in a dental examination?
At Confidental, we take time to discuss your oral health concerns and provide personalised treatment plans to solve your oral health problems. Our process starts with a comprehensive dental examination which will include:
Discussion of your dental history
Run through of current oral care routine
Full check-up of all areas of your mouth
Standard x-rays for diagnosis
Oral care guidance (such as improving brushing and flossing technique)
Proposal for treatment plans
There is no special preparation required on a standard dental examination. A single appointment will take around 30-60 minutes, depending on each patient's concerns. You can go about your daily activities after the dental examination.
Complete Dental Examination Service
When you visit our clinic, you can expect a complete and thorough dental exam. Our team uses the latest diagnostic technology for a fast, accurate, and detailed dental assessment. We utilise digital dental x-rays, intraoral cameras, Diagnodent, and lasers to give us a clearer picture and gain a deeper understanding of your problem areas. They also allow us to detect early signs of oral cancer, decay and other oral diseases, which we can treat at their early stages, paving the way for overall good dental health.
Get confident with your oral health by booking regular dental checks at our Auckland clinic today!