Who does not want to have a glowing, wrinkle free and soft skin?
With constant exposure of our skin to Chemicals and UV rays from the Sunlight makes our skin look lifeless and deteriorated. Even with age due to loss of Laxity of muscles lead to wrinkles in face.
Botox offers a brilliant solution for all the wrinkles on your skin.
Botox
Botox is the most common non-surgical anti-ageing treatment globally. It has been proven to be an effective treatment for millions of people worldwide.
Cosmetically we use Botox® treatments to relax the muscles in the face that create fine lines and wrinkles and to prevent further deepening of lines. It is a simple 10-minute procedure, with a few tiny injections directly into the muscles we want to treat. There is an art to Botox treatments – to achieve the best, most natural looking results it must be placed in the right muscle, in the correct place, at an ideal dose.
Botox uses a natural purified protein that temporarily relaxes your muscles to soften wrinkles and lines. It is injected into the desired treatment area and takes around 3-4 days to take effect, with full smoothing and rejuvenation appearing after 14 days.
The most common areas we treat are the frown line, or 'grumpy lines', the horizontal 'worry' lines and the 'crow's feet' around the eyes.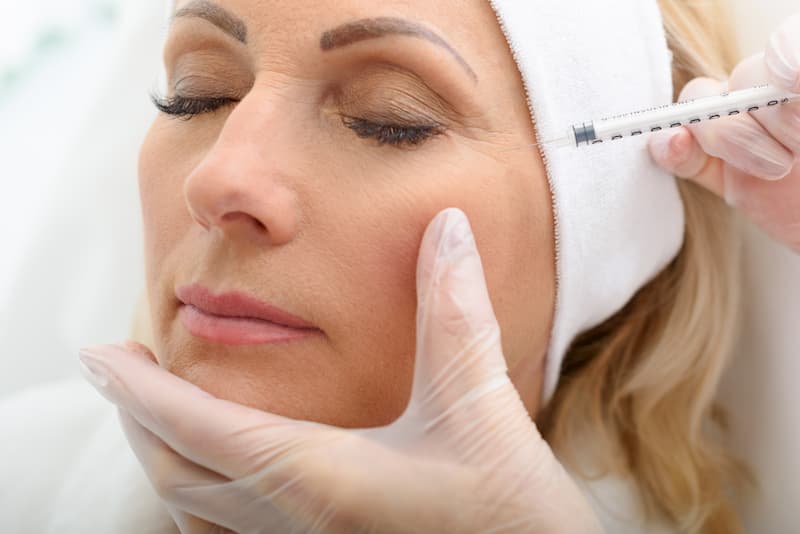 Dermal Fillers
"Get Your Lips Carved Without Pain"
Lip size often changes as we get older, and we lose the natural volume we once had. You can also enhance the lips to improve balance and beauty in the face.
Added advantage of getting Local anaesthetic for your fillers. Which will make the experience absolutely pain free.
Dermal Filler is a clinically tested cosmetic injectable that helps restore youthfulness and create an instant 'plumping' effect using Hyaluronic Acid – a natural substance that occurs in the body to deliver volume to the treated area.
Whether you are looking to soften lines, contour cheeks, add lip volume or help define your natural features, the experts will help you find the look you are after.
We can use dermal fillers to:
Increase volume and balance of the lips
Hydrate lips for Soft Plumpy Lips
Lip Enhancement
Lift the mouth corners
A great clinician will understand about balance, harmony and proportion, and will discuss this with you as part of your assessment
Products we use are Teosyal Derma Filler which are proven to be better compared to Juvéderm.
Contact Confidental if you desire to have beautiful Lips.